Jacob Pneumatic
is an electric transit engine. He appears in 
An American Tail: The Treasure of Manhattan Island
and Casey Jr. and Friends.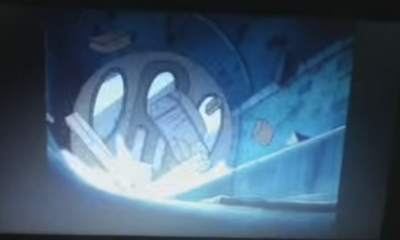 An American Tail: The Treasure of Manhattan Island
Tiger accidentally pulls a lever which starts the fan that propels Jacob, causing him to rush down the tracks crushing all the debris in its path & Fievel and Tony run for their life when Tony helps Fievel when his shirt is stuck on a nail. Tony is able to help Fievel and they barely survive.
Technical Details
Basis
Jacob Pneumatic is of a freelance design. Therefore, he is not based on a specific prototype.
Livery
Jacob is bright yellow and emerald green. His windows and air intake have red frames.
Trivia
Relationship
Train Bult: Diesel Engine
Appearance: An American Tail 3 and Casey Jr. & Friends.
Gender: Male
Agliment: Good
Allies: Casey Jr., Toots, Tillie, Tootle, Montana, Emma, Pufle, Ivor, Jebediah, Georgia, Pete, Farnsworth, Alfred, Melissa, Tom Jerry, Blue, Greendale Rocket, Johnny , Doc, Huey, Silver Fish, Rasmus, Jason, Sir Reginald, Katy Caboose, Alan (steam engine), Piper, Tracy, Rusty (The Little Engine That Could "2011 film"), Humphrey, Rodrick, Minerva, Shelbert, Mary, Calley, Bonnie, Sasha, Wartime, Sir Norramby, Evening Express, Cardean, Chugs, Big Tim, Yaemon
Enemies: Cerberus
Gallery
Community content is available under
CC-BY-SA
unless otherwise noted.