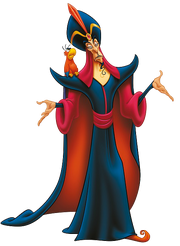 Jafar is a villain from Aladdin
He is a judge
Jafar played King Boggart in The Princess and the Spanish Villain
He is a king
He is a snake
He is a germ
He is a wizard
He is a Evil Sorcerer.
He is a sorcerer.
He is an Imperial governor
Jafar played Hector Barbossa In Pirates Of The Carbbean [Prince Balto Style]
He is a cursed pirate captain
Jafar played Firelord Azulon in Avatar: The Last Airbender (PrinceBalto Human Style)
He is a ruler of the Fire Nation
Jafar played General Parvo in Road Animals
He is a terrorist
Jafar played Dr. Jason Woodrue in Batman & Robin (PrinceBalto Human Style)
He is a mad scientist
Jafar played The Scarecrow in Batman: The Animated Series (PrinceBalto Human Style)
He is a villain
He is a businessman
He is an enchanter
He is a pirate
He is a Evil Dr.
He is the leader of the Huns
He is a sorcerer
He is a dwarf
He is a loan shark
He is an evil tyrant
He is a mirror
He is an evil cat
He is a trigger-happy cowboy
He is a sith Lord
He is a huntsman
He is a mad scientist
He is a king
He is a peacock
Jafar played Tzekel-Khan in Aladdin and Chris Road to El Dorado
He is a Toad
Jafar played Neflite in Sailor Zoe
He is a maneless lion
He is a dolphin
He is a vulture
Jafar played Lord Zedd in Mighty Morphin Disney Rangers
He is the Evil Sorcerer and the Husband of Rita Repulsa.
He is a wolf
Voice Actors:
Jonathan Freeman - English
Akira Takarada - Japanese
Joachim Kemmer - German
Jan Spitzer - German
Gees Linnebank - Dutch
Massimo Corvo - Italian
Feodor Atkine - French
Michel Elias - French
Nis Bank Mikkelsen - Danish
Wlodzimierz Bednarski - Polish
Dariusz Odija - Polish
Eli Gorenstein - Hebrew
Eric Gaudry - French
Portrayals:
Gallery:
Community content is available under
CC-BY-SA
unless otherwise noted.