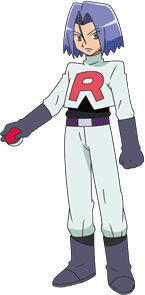 James (Japanese: コジロウ Kojirō) is a member of Team Rocket, more specifically part of a trio with Jessie and Meowth, that follows Ash Ketchum and his friends around in the Pokémon anime, usually trying to steal Ash's Pikachu.
Voice Actors:
He is an evil sorcerer.
He is Moose's brother.
He is a hunter.
He is a member of the Alpha Gang.
He is an evil judge.
He is a rat.
He is Captain How Loses His Hand by the crocodile
he is a Evil Monik
He is Madame Medusa's sidekick.
he is a Space Emperor
He is Mr.Incredible's Fan and Enemy
He Played King Lo In A Chipmunk in Central Park
He is a troll king and Sidekick of Gnorga,
he is a evil clown
He Played Turbo In Wreck-it Johnny Bravo
He Played Evil Demon (True Form) In All Breeder Go to Heaven 2
He is a Demon Devil Cat
He is a evil wizard who killed Parents formley student of ??? and Leader of Death ???
He is a Evil Clown
he is a Evil Lion
he is a Space Emperor and goku's Enemy
He played Itachi Uch In Theodoruto
He is Sasuke's bIG l form Anbu Black Ops Member and Member of thr Akatsuki
Similarites for chracters
Orochimaru (Naruto) Both Acts Like Woma and Sna
 ??? (Disney) Captain Hoo (Both Almos Eating)
 ???? (Harry Potter) (Both Snakes as a Pe)
 ???? (Batman) (Both Crazy and evil who tries to Kills they're main chracters)
 ???? Lovet (Titanic) (Both Treasure Hunters)
Portrayals:
Gallery:
Community content is available under
CC-BY-SA
unless otherwise noted.