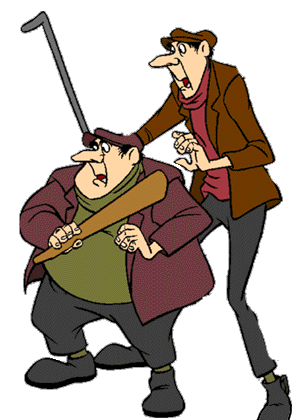 Jasper and Horace are Cruella De Vil's bumbling henchmen and the secondary antagonists of the first 101 Dalmatians film.
They played Tweedledee and Tweedledum in June in Wonderland
He played Nikki and Kaltag in Pinocchilto
He played Honest John and Gideon in Peterocchio
He is a Robot Henchmen
He played Anchor and Chum in Finding Léo
Gallery
Trivia
Their appearances in the Stephen Squirrelsky and Friends' Movie Spoof Travels are Here Comes Winnie the Pooh where they, Cruella, Lionel, Poodles, The You-Reek Skunk, Teresa, Trevor Sr, Trevor Jr, Slade Spider, Jackal O'Tucksy, Poisonous Snake, The Greaser Dogs, The Greasers, The Rowdyruff Boys, Red Guy, Mandark, Manfred, Springbaky, Chimpy, Feisty Badger, Red Deer, Dicki Yak, and The Cyberchase Villains try to catch Stephen and the gang, but can't succeed, then will hopefully be in more spoof travels.
Community content is available under
CC-BY-SA
unless otherwise noted.