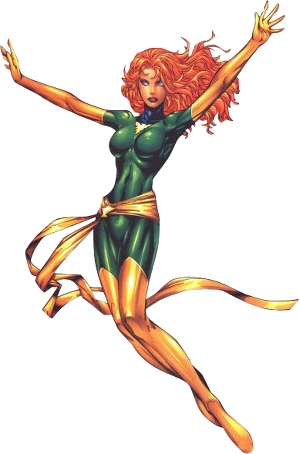 Jean Grey-Summers (born Jean Elaine Grey) is a fictional superhero appearing in American comic books published by Marvel Comics. The character has been known under the aliases Marvel Girl, Phoenix, and Dark Phoenix. Created by writer Stan Lee and artist Jack Kirby, the character first appeared in The X-Men #1 (September 1963).
Actresses
Voice Actresses
Fate
Comic - Gives up her evil ways and kisses CJ on the cheek, hoping to save the galaxy someday. (Young CJ Over Yonder: The End of the Galaxy)
Says goodbye to CJ, Noreen and John and flies away into the sky (The Apocolypse part 3)
She is a pirate
She plays Georgette in Red Kirby and Company
She is a poodle
She plays Cruella De Vil in 101 Pokemon
She is a puppy hater
She plays Grunkle Stan in Elysian Falls
She plays Dr. Nefarious in Sunset Shimmer and Yellow Kirby (Ratchet and Clank) series
She plays Vicky in The Fairly Oddponies
She is a Babysitter
She plays Vegeta in Power Ball Z
She is the prince of Saiyans
She plays Android 18 in Pony Ball Z
She is a android now turned human
Community content is available under
CC-BY-SA
unless otherwise noted.