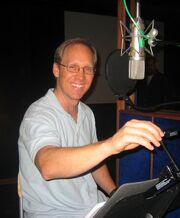 Jeffrey Glen Bennett, better known as Jeff Bennett, is an American voice actor.
Voices:
Zazu - The Lion King
Petrie - The Land Before Time
Johnny Bravo - Johnny Bravo
Bradley Uppercrust III - An Extremely Goofy Movie
Raj, Samson Clogmeyer, Commander Hoo-hah - Camp Lazlo
Ace, Grubber, Big Billy, Dick Hardly - The Powerpuff Girls
Dexter's Father - Dexter's Laboratory
Rufus, Caged Juju, Pins, Needles, JB, Belly Juju, Mummy King - Tak and the Power of Juju
Mr. Smee - Peter Pan: Return to Neverland
Spike the Clown - Toonstruck
Baloney - Animaniacs
Dustin Lawrence "Justin" McCann Jr.
Prince Eric - The Little Mermaid
Tramp - Lady and the Tramp II: Scamp's Adventure
Amos Slade - The Fox and the Hound 2
Rudy - Kronk's New Groove
Atka - Brother Bear 2
G-Wiz Eagle - Harvey and Friends
Jasper Badun - 101 Dalmatians II: Patch's London Adventure
Herald - Pocahontas II: Journey to a New World
Slug - An American Tail: The Mystery of the Night Monster
Emelius Browne (ADR role) - Bedknobs and Broomsticks (Extended cut)
Community content is available under
CC-BY-SA
unless otherwise noted.