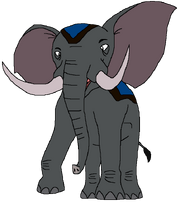 Jembo is an African bush elephant and one of the eight guardians in the upcoming FOX show Animal World.
Appearance
Jembo is a large gray african bush elephant who is the largest in his troop, he also has long elephant tusks,and a blue and brown caparison.
Personalty
Jembo is a huge eater, and likes to sit in a spa with his girls, and spraying at various types of antelopes.
Relationships
Trivia
Roles
Gallery