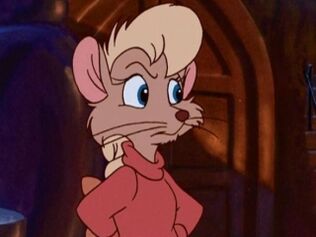 Jenny McBride is Timmy's girlfriend from The Secret of NIMH 2: Timmy to the Rescue.
She is a tinker fairy.
She is a squirrel.
She is Flik's love interest.
She Appears With Timmy as Taran In The Black Cauldron (Baloo The BearFan360 Style)
She is an extra warrior.
She is a dog.
She is a princess.
She is a lioness.
She played LaBarbara Conrad in Canal Famillerama
She played Swan Odettte in The McBride Princess
She is a swan.
She played Young Adult Odette In The Elephant Princess
She is a young adult.
She played Ima Goodlady/Sedusa in The Powerpuff Girls (Disney and Sega Animal Style)
She is a stepmother.
She is a beautiful girl.
She played Pocahontas in Jenny McBridehontas I and II
She is the Daughter of the Chief
She is Queen of the Pridelands
She is a small girl
She played Anastasia in Jenny McBridestasia
She is a Russian Princess
She is an Arabian Princess
She played Jane Porter in Timmy Brisbyzan
She is a English Girl
She is a Princess
She will play Betina in Sonicman: The Animated Series
Voice Actors:
Hynden Walch - English
Gallery:
Trivia
Her appearances in the Stephen Squirrelsky and Friends' Movie Spoof Travels are Finding Alvin, Animated Tale, The Forest Book 2, Nikki's Adventures of Sing Along Songs Episode 10, Madagascar, and Sleeping Beauty and will even be in more movie spoof travels.
Community content is available under
CC-BY-SA
unless otherwise noted.