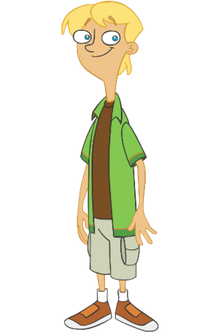 Jeremy Johnson is a supporting character from Phineas and Ferb. He is the crush and later boyfriend of Candace Flynn, older brother of Suzy Johnson and son of Jack Johnson and Mrs. Johnson. He often comes over to the Flynn-Fletcher House to enjoy Phineas and Ferb's large projects. Mitchel Musso confirmed in a Disney Channel spot that Jeremy returns Candace's feelings for him. Also, if Candace is angry about her brothers, once Jeremy comes for a visit, Candace's feelings seem to be soothed. His normal greetings to Candace tend to be "Hey, Candace", (to which she responds: "Hi, Jeremy.") and "Uh... Candace?" He works part-time at the Mr. Slushy Dawg fast food chain, which Candace frequently visits just to see him. He is also the lead singer and guitarist for the band Jeremy and Incidentals.
Voice Actors:
Mitchel Musso - English
Jeremy Played Jones In Scooby Spoof for chris1704
Portayals:
In Ash and Brock He is Played by Oak
In Fievel and Tony he is Played by
In Chip and dale he is Played by Skippy
In Darien and Tracey He is Played by Ash
In Phineas and Ferb spoof for chris1702 He is Played by Max (Pokemon
Gallery:
Trivia
His appearances in the Stephen Squirrelsky and Friends' Movie Spoof Travels are Bubblesrella 2: Dreams Come True, The Brave Little Piglet, Kung Fu Owen, Nikki's Adventures of Sing Along Songs Episode 8, The Thomas O'Malley Movie, Kermit Returns, Fievel the Red Nosed Mouse and The Island of Misfits, Nikki's Adventures of Sing Along Songs Episode 9, Finding Alvin (J.B. Eagle's Style), Animated Tale (TheTure DisneyKing's Style), The Forest Book 2 (TrainBoy43's Style), Nikki's Adventures of Sing Along Songs Episode 10, Madagascar (FamousImagination50's Style), Sleeping Beauty (Justin Quintanilla's Style), Aurorastasia, Despicable Me (Justin Quintanilla's Style), We're Back!: A Jungle Animal's Story, Jimmynocchio, and The Wizard of Oz (Uranimated18's Style) and will even be in more movie spoof travels.