Its a parady of the Musical Jersey Boys.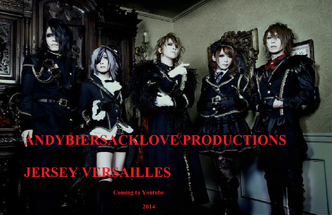 Cast
Kamijo as Frankie Valli 1
Hizaki as Frankie Valli 2
Massashi as Tommy DeVito
Teru as Bob Gaudio
Yuku as Nick Massi
Marie as Mary Delgado
Flynn Rider as Bob Crewe
Loki as Gyp DeCarlo
Jasmine You as Francine Valli
Thor as Joe Pesci
Fandral as Norm Waxman
Rapunzel as Lorraine
Costumes
Spring-Lyrical Symphony
Summer-Noble
Fall-Jubilee
Winter- Holy Grail
Finale-Halloween Masquerade
Songs
Spring
Ces soirées-là By Yannick
The Early Years: A Scrapbook:Silhouettes/You're the Apple of My Eye/I Can't Give You Anything but Love, Baby/Earth Angel/A Sunday Kind of Love/My Mother's Eyes"
Summer
(Who Wears)Short Shorts /"I'm in the Mood for Love" / "Moody's Mood for Love
Cry for me
Sherry
Big Girls Don't Cry
Walk Like A Man
December, 1963 (Oh, What a Night)
My Boyfriend's Back
My Eyes Adored You
Dawn (Go Away)
Fall
Big Man in Town
Begging
Stay/Let's Hang On
Winter
Opus 17 (Don't You Worry 'Bout Me)/Bye Bye Baby(Goodbye)
C'mon Marianne
Can't Take My Eyes Off You
Working My Way Back to You
Fallen Angel
Halloween Masquerade/Finale
Rag Doll
Who Loves You
Stay/Let's Hang On! (To What We've Got)/Opus 17 (Don't You Worry 'Bout Me)/Bye Bye Baby(Encore)
Credits Music
Fallen Angel By Frankie Valli
Gallery
Community content is available under
CC-BY-SA
unless otherwise noted.