He is a new Protagonist of Silico vs Screenslaver.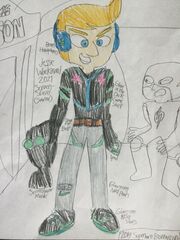 Family:
Quotes
(When meeting Silico), So you must be Silico! Huh? I thought so. I have to stop you for inslaving these people's Minds!
(In the Trailer) Bring it on, Silico.
(When meeting Queen Watevra Wanabi) The Queen of Systarians! Yes Siree! I believed that you joined the Supers in League together!
(When meeting The Witch-King of Angmar) Oh, no you don't!
(Before The Final Battle against Silico) C'mon. Silico! Let's put an end to this Nonsense like the way we met! TOGETHER!!!
Silico, we know that you felt bad for the past. But you can stop being a Villain. You don't have to be the bad guy.
Gallery
Roles
He is a space ranger and a toy
He is a Teenager
He is a Fox
He appeared in

New Screenslaver vs. Lord Drakkon
He's the main protagonist