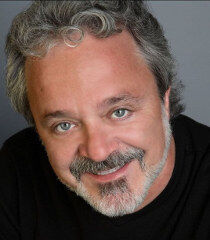 James Jonah "Jim" Cummings (born November 3, 1952) is an American voice actor and singer, who has appeared in almost 400 roles. He is known for voicing Darkwing Duck, Dr. Eggman from Sonic the Hedgehog, and Pete, as well as being the current voice of both Winnie the Pooh and Tigger, and the Tasmanian Devil. He has performed in numerous animated Disney and DreamWorks movies including Aladdin, Lion King, Balto, Antz, The Road to El Dorado, Shrek, and The Princess and the Frog. He has also provided voice-over work for video games, such as Icewind Dale, The Elder Scrolls V: Skyrim, Baldur's Gate, Mass Effect 2, Star Wars: The Old Republic, World of Warcraft: Mists of Pandaria, and Splatterhouse.
Voices:
Winnie the Pooh, Tigger - Winnie the Pooh
Fuzzy Lumpkins - The Powerpuff Girls
Tantor - Tarzan & Jane
Ultra Lord - Jimmy Neutron
Buster - Buster & Chauncey's Silent Night
Pete - Disney
Featherstone - Gnomeo and Juliet
Cat - CatDog
Razoul - Aladdin
Duncan the Horse - The Simpsons
Red Eye - Dexter's Laboratory
Taz, Yosemite Sam - Looney Tunes
Dr. Robotnik - Sonic the Hedgehog
Pirates - Peter Pan: Return to Neverland
Ed - The Lion King
King Triton - The Little Memaid: Ariel's Beginning
Floyd, Waylon - The Fox and the Hound 2
Scar - The Lion King (Singing the last lyrics of Be Prepared), The Lion King II: Simba's Pride
King James, Chief Powhatan - Pocahontas II: Journey to a New World
Tony - Lady and the Tramp II: Scamp's Adventure
Slapshot Eagle, Stormy, Sparky, Additional Voices - Harvey and Friends
Magra - Sheep & Wolves
Gallery:
Community content is available under
CC-BY-SA
unless otherwise noted.