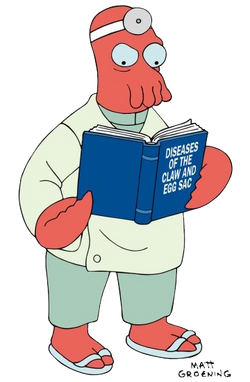 John A. Zoidberg, better known as Dr. Zoidberg, is one of the main characters in Futurama. He was born on the planet Decapod 10 and moved to Earth to practice medicine after giving up comedy once. Despite being a self-proclaimed expert on Humans, he called Philip J. Fry "young lady" when they first met and has confused Fry and Bender. He speaks, as all Decapodians do, with a heavy Yiddish accent. He is the nephew of famed eccentric movie celebrity Harold Zoid. On a number of occasions, Zoidberg has made mention of Hermes being his best friend.
Gallery
Portrayals
Community content is available under
CC-BY-SA
unless otherwise noted.