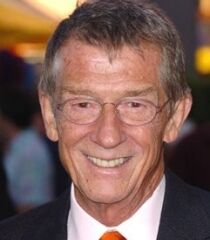 Sir John Vincent Hurt, CBE (born January 22, 1940 - January 27, 2017) in Chesterfield, Derbyshire, England) was an English actor. Hurt has had a career spanning six decades and initially came to prominence for his supporting role as Richard Rich in the film A Man for All Seasons (1966). Since then he has played leading roles as Quentin Crisp in the TV film The Naked Civil Servant (1975), the deformed man John Merrick in David Lynch's biopic The Elephant Man (1980), Winston Smith in the dystopian drama Nineteen Eighty-Four (1984), Mr. Braddock in the Stephen Frears drama The Hit (1984), and Stephen Ward in the drama depicting the Profumo affair, Scandal (1989). He is also known for his television roles as Caligula in I, Claudius (1976), and the War Doctor in the Doctor Who 50th anniversary special, "The Day of the Doctor" (2013). It is a role he will reprise on audio for Big Finish Productions in a series of sets starting from December 2015. Hurt's other films include the prison drama Midnight Express (1978), the science-fiction horror film Alien (1979), the adventure film Rob Roy (1995), the political thriller V for Vendetta (2006), the sci-fi adventure film Indiana Jones and the Kingdom of the Crystal Skull (2008), the Harry Potter film series (2001–11), the Hellboy films (2004 and 2008), and the Cold War espionage film Tinker Tailor Soldier Spy (2011). His character's final scene in Alien has been named by a number of publications as one of the most memorable in cinematic history. Recognisable for his distinctive rich voice, he has also enjoyed a successful voice acting career in films such as Watership Down (1978), the animated The Lord of the Rings (1978), and Dogville, as well as the BBC television series Merlin. Among other honors, he has received two Academy Award nominations, a Golden Globe Award, and four BAFTA Awards, with the fourth being a Lifetime Achievement recognition for his outstanding contribution to British cinema.
Voices:
Roles:
Community content is available under
CC-BY-SA
unless otherwise noted.