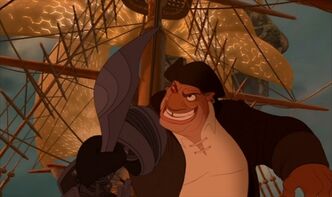 John Silver is the film's false antagonist, and something of an Anti-Villain (the villain's version of an Anti-Hero). An Anti-Hero's flaws are more prominent than their heroic qualities, while an Anti-Villain's good points are more prominent than their villainous qualities. Silver is rather greedy and cunning, having spent most of his life searching for the treasure of Captain Flint, but he has a caring side, too, and understands that friendship can be more important than treasure. He dislikes unnecessary acts of violence and cruelty, originally intending to mutiny only after the treasure was in hand, and thus, avoiding bloodshed as much as possible, and is generally honest and honorable in his piratical dealings. Nonetheless, he maintains a constant air of harsh brutality and deceptiveness around his crewmates, understandably necessary to maintain his position as their leader. John Silver has an movie spoof friend name is Phantom the Pirate from Pokemon.
Movie Spoof role
Community content is available under
CC-BY-SA
unless otherwise noted.