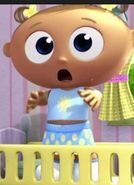 Joy Beanstalk is Jack and Whyatt's baby sister. She is the only daughter of Mrs. Beanstalk and Mr. Beanstalk.
Appearances
The Boy Who Cried Wolf

The Elves and the Shoemaker

The 12 Dancing Princesses

Goldilocks and the 3 Bears: The Mystery

Twas The Night Before Christmas

Muddled Up Fairytales
The Prince and the Pauper

The Cookbook

The City Mouse and the Country Mouse

Woofster Finds a Home

Bedtime for Bear

King Eddie Who Loved Spaghetti

A Day With Farmer Fred

The Unhappy Puppy

Super Puppy Saves the Day
Trivia
As of Season 2, Joy Beanstalk gained female eyelashes.
Gallery