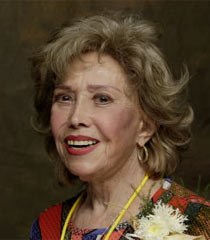 June Lucille Forer (born September 18, 1917 - July 26, 2017), better known as June Foray, was an American voice actress and actress best known as the voice of such animated characters as Rocky the Flying Squirrel, Lucifer from Cinderella, Cindy Lou Who, Jokey Smurf, Granny from the Tweety Bird cartoons, Grammi Gummi from The Adventures of the Gummi Bears series and Magica De Spell, among many others. Her career has encompassed radio, theatrical shorts, feature films, television, record albums (particularly with Stan Freberg), video games, talking toys and other media. Foray was also one of the early members of ASIFA-Hollywood, the society devoted to promoting and encouraging animation. She has a star on the Hollywood Walk of Fame honoring her voice work in television.
Voices:
Magica De Spell - DuckTales
Granny - Looney Tunes
Grandma Fa - Mulan
Rocky the Squrriel - Rocky and Bullwinkle
Luficer - Cinderella
Cindy Lou Who - How The Grinch Stole Christmas
Jokey Smurf - The Smurfs
Grammi Gummi - The Adventures of the Gummi Bears
Community content is available under
CC-BY-SA
unless otherwise noted.