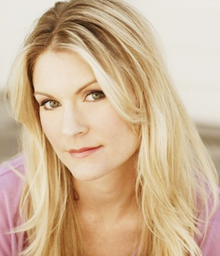 Catherine Davis "Kate" Higgins (born August 16, 1969), also known as Kate Davis, is an American voice actress, singer, and jazz pianist. Born in Charlottesville, Virginia and grew up in Auburn, Alabama. She is known as the English voice of Sakura Haruno in the anime series Naruto, C.C. in Code Geass and Saber in Fate/stay Night. From 2010 to 2013, she voiced Miles "Tails" Prower in the video game series Sonic the Hedgehog. She also voices Kate in the Alpha and Omega sequels.
Voices:
Amy/Sailor Mercury (VIZ) - Sailor Moon
Sakura Haruno - Naruto
Miles "Tails" Prower, Wave the Swallow - Sonic the Hedgehog
Nanao Ise, Karin Kurosaki, Retsu Unohana - Bleach
Princess Aurora - Sofia the First
Pauline - Super Mario Odyssey
Kate - Alpha & Omega Series)
Community content is available under
CC-BY-SA
unless otherwise noted.