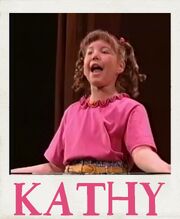 Kathy
 was a character who appeared in the first three seasons of Barney & Friends. Earlier than that, she appeared as one of the new friends in the Barney & the Backyard Gang video 
Rock with Barney
. She was played by 
Lauren King
.
About Kathy
Family: Lives with mother, grandmother (Nana), and a parakeet (Priscilla) in an apartment. Has no siblings. Her grandmother appeared in Grandparents Are Grand!.
Appearances
Rock with Barney
My Family's Just Right for Me
Playing It Safe
The Treasure of Rainbow Beard
Going Places!
Caring Means Sharing
What's That Shadow?
Happy Birthday, Barney!
Alphabet Soup!
Let's Help Mother Goose!
Be a Friend
When I Grow Up...
1-2-3-4-5 Senses!
A Camping We Will Go
Carnival of Numbers
Doctor Barney is Here!
Home Sweet Homes
Everyone is Special
Grandparents Are Grand!
Red, Blue and Circles Too!
Hoo's in the Forest?
I Can Do That!
Look at Me, I'm 3!
My Favorite Things
The Dentist Makes Me Smile
Having Tens of Fun!
A Very Special Delivery!
Room for Everyone
I Can Be a Firefighter!
Any Way You Slice It
On the Move
Classical Cleanup
Our Furry Feathered Fishy Friends
At Home with Animals
Camera Safari
Are We There Yet?
Ship, Ahoy!
Barney Live! In New York City
Sing and Dance with Barney
Storytime with Barney
Video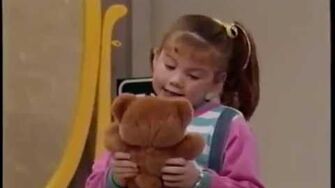 Gallery
Community content is available under
CC-BY-SA
unless otherwise noted.