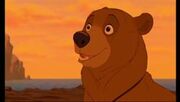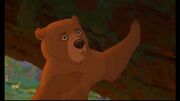 Kenai Bear is a character from Brother Bear. He is the animal (namely, ursine) version of Kenai as a human, and presently is Kenai's lifelong form.
He is a Night Fury
He is a sculptor and a member of the Master Builders.
Kenai Bear plays Bob the Tomato in FunnyTales and FunnyTales in the Wild, alongside Kovu (Phase Awesomeness) 
He is, obviously, a tomato.
He is a camper
He is a lion
He is a starfish.
Kenai Bear plays Sammy Bagel, Jr. in Animated Party (Sausage Party)
As his name implies, he is a bagel and the on-and-off rival of Lavash.
He is Ash's Pikachu Form
Kenai Bear plays Kocoum in Rebeccahontas
He is a fierce hunter
He is in beast form
He is a pink starfish
He is Chewbacca's cousin
He is Paul Conway's best friend
He is a gorilla
He is a street rat
He is an Funtime animatronic
He is a purple dinosaur
He is a clumsy dog
Kenai Bear plays Gambler Dog in All Spiders Go To Heaven (Dragon Rockz Style)
He is a small dog
He is a mouse
He is a green ogre
Kenai Bear plays Grug Crood in The Croods (Dragon Rockz Style)
He is a caveman
Kenai Bear plays Adult Tantor in Kodizan
He is a red elephant
He is a man
He is Alan's father
He is Mouse that Likes Monterey
He is a hound dog
He is a cat
He is a blue genie
He is a sloth bear
He is a panda
In Threefold: The Heroes Who Don't Do Anything, Kenai Bear mostly plays himself
In the last scene, he briefly plays Bob the Tomato.
Kenai also plays himself in Sophisticatedly Declassified (WALL-E Animash/OC Parody)
He and Kate (Alpha and Omega) have a secondary role in this parody.
He is a dog
He is a dwarf
Trivia
In FunnyTales, FunnyTales in the Wild, and FunnyTales in the Metropolis, Kenai is shown to be friends with Simba, Kenai, and Humphrey, among others. Alongside Kovu, he is very practical.

Kenai is also best friends with Kodi, as revealed in The Kodiak Wolf-Dog Movie, as well as with Classified, with whom he has a "bromance" as of Animated Party.
Kenai can be somewhat annoying at times, as shown in Fourscore: Polar's Wild Adventure (Awesome Me 2).
November ("September"), by Phase Awesomeness, portrays Kenai as one who is concerned about his friends' safety and well-being.
Portrayal
Gallery:
Community content is available under
CC-BY-SA
unless otherwise noted.