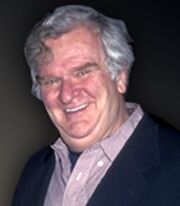 Kenneth Mars (April 4, 1935 – February 12, 2011) was an American television, film and voice actor, who specialized in comedic roles. He may be best-remembered, albeit not by name, for his roles in two Mel Brooks films: as the insane Nazi playwright Franz Liebkind in The Producers (1968) and as the relentless Police Inspector Hans Wilhelm Fredrich Kemp in Young Frankenstein (1974). Mars appeared in several seasons of Malcolm in the Middle as Otto, Francis's well-meaning but dim-witted boss. He was well known as the voice of King Triton, Ariel's father, in the 1989 Disney animated film The Little Mermaid and its sequel, the television series and the Kingdom Hearts series. He also did several other animated voice over film roles such as Littlefoot's grandfather in the Land Before Time series and that of Professor Screweyes in We're Back! A Dinosaur's Story (1993), and King Colbert (Prince Cornelius's father) in Thumbelina (1994).
Voices:
King Triton - The Little Mermaid
Professor Screweyes - We're Back!: A Dinosaur's Story
Littlefoot's Grandpa - The Land Before Time
King Colbert - Thumbelina
William - The Human World Book
Gallery:
Community content is available under
CC-BY-SA
unless otherwise noted.