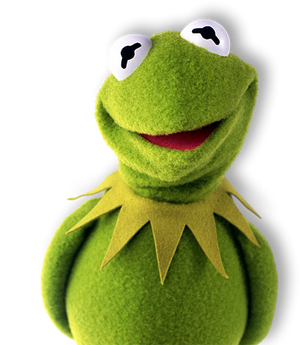 Kermit the Frog is a Muppet character and Jim Henson's most well-known creation. Introduced in 1955, Kermit is the straight man protagonist of numerous Muppet productions, most notably Sesame Street and The Muppet Show, as well as in movies, specials, and public service announcements through the years. Henson originally performed Kermit until his death in 1990; Steve Whitmire performed Kermit from that time up until his dismissal from the role in 2016. Kermit is currently performed by Matt Vogel. He was also voiced by Frank Welker in Muppet Babies and occasionally in other animation projects.
Jim Henson's most famous Muppet creation, was the star and host of The Muppet Show, played a significant role on Sesame Street, and served as the logo of The Jim Henson Company. He continues to star in the Muppet movies and makes numerous TV appearances.
Kermit grew up with thousands of siblings, and has talked occasionally about other members of his family. His childhood adventures were chronicled in the 2002 video Kermit's Swamp Years to discover he has some more friends like Croaker, Goggles andBlotch, also he has a nephew named Robin.
Miss Piggy insists that she and Kermit got married in The Muppets Take Manhattan and that they're very happy. Kermit disagrees, claiming that it was just a movie and that in real life, they have a "professional relationship" (meaning he thinks they're professionals and she thinks they're in a relationship).
Kermit's most well-known catchphrase is "Hi-ho, Kermit the Frog here!" He typically introduced acts on The Muppet Show by waving his arms wildly and shouting "Yaaaay!" (a technique he learned from his old acting coach, Mr. Dawson).
Kermit has been credited as the writer of three books: For Every Child, A Better World; One Frog Can Make a Difference; and Before You Leap.
He is a candlestick
He is a snowman
Deadly Friend (Nikkdisneylover8390's Animal Style)

He Played as BB Robot
Sailor Izzy He Played as Tuxedo Mask
My Neighbor Charizard Played as Tatsuo Kusakabe
He is a green monster
He is a Rooster
He is a street rat
He is a mayor.
He is a meerkat
He is a Mouse
Kermit Pan He played as Peter Pan
He is a boy who never grows up
He is a lion
He is a Dog
Orinoco Hood He played as Sexton Mouse
He is a mouse
Kermicules

He played as Hercules
The Donkey of Notre Dame

He played as Hugo
The Little Mer-Izzy

He played as a Eric
The Frog and the Bear

 He Played as Adult Tod
He is a chipmunk
He is a lombax
He is a Robot Toy
The Bear King

He played as Rafiki
He is a tomato
He is a dog
== Muppets Vs Horror Characters (DaveGrrrrrrruly) He played as B.O.B.
He is a book
Jim Henson Age

he played as Sid
Finding Keroppi He played as Marlin
See Also:
Main Article: Baby Kermit
Portrayals:
In

The Animes (Aka Muppets)

for 170Movies he is Played by Ash Ketchum
In

The Muppets (1701Movies Style)

he was Played by Alvin Seville
In

The Teenagers (Aka Muppets)

for chris1703 By Darien Chiba
Gallery: