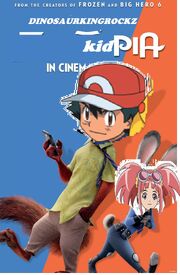 Kidtopia is DinosaurKingRockz's movie-spoof of Disney's Zootopia (2016). It will appear on YouTube in the near future.
Cast:
Judy Hopps - Zoe Drake (Dinosaur King)
Nick Wilde - Ash Ketchum (Pokemon)
Chief Bogo - Cookie Monster (Sesame Street)
Leodore Lionheart - Simba (The Lion King)
Yax - Donald Duck (Disney)
Mrs. Otterton - Ariel (The Little Mermaid)
Dawn Bellwether - Darla Dimple (Cats Don't Dance)
Gazelle - Serena/Sailor Moon
Officer Benjamin Clawhauser - Shaggy Rogers (Scooby Doo)
Officer McHorn - Brock (Pokemon)
Stu Hopps - Spike Taylor (Dinosaur King)
Bonnie Hopps - Aki Taylor (Dinosaur King)
Duke Weaselton - Edgar (The Aristocats)
Mr. Big - Norman (Pokemon)
Fru Fru - May (Pokemon)
Gideon Grey - Theodore Seville (Alvin and the Chipmunks)
Flash - Tracey Sketchit (Pokemon)
Priscilla - Amy/Sailor Mercury (Sailor Moon)
Jerry Jumbeaux, Jr. - Baloo (The Jungle Book)
Doug - Max (Cats Don't Dance)
Finnick - BJ (Barney & Friends)
Frantic Pig - Porky Pig (Looney Tunes)
Gallery:
Community content is available under
CC-BY-SA
unless otherwise noted.