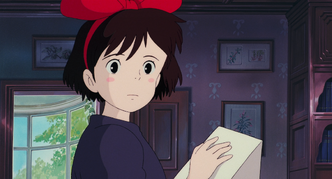 Kiki is a young witch and the protagonist in Kiki's Delivery Service.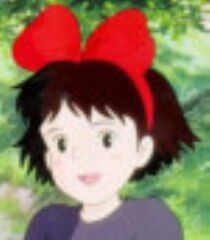 Roles
Kiki Played Alice in Kiki in Wonderland
Kiki Played Melody in The Little Jane Jetson 2: Return to the Sea and The Little Mer-Knight 2: Return to the Sea
Kiki Played Lady Kluck in Cody Hood
Kiki Played Dumbo in Kiki (Dumbo)
Kiki Played Charlotte in Kiki's Bag (a.k.a. Charlotte's Web) and Kiki's Bag 2: Ash's Great Adventure
Kiki Played Oliver in Kiki and Company
Kiki Played Mickey Mouse in Kiki and the Beanstalk
Kiki Played Aladdin/Prince Ali in Kikiladdin, Kikiladdin 2: The Return of Maleficent and Kikiladdin 3: The King of Thieves
Kiki Played Simba in The Witch Queen, The Witch Queen 2: Kiki's Pride and The Witch Queen 1/2
Kiki Played Osmosis/Ozzy Jones in Kiki Jones
Kiki Played Taran in Kiki and the Black Cauldron
Kiki Played Thomas in Kiki and the Magic City, Kiki & Friends: Calling All Characters!, Kiki & Friends: The Great Discovery, Kiki & Friends: Hero of the Valley, Kiki & Friends: Misty Island Rescue, Kiki & Friends: Day of the Villains, Kiki & Friends: Blue Egypt Mystery, Kiki & Friends: King of the Characters, Kiki & Friends: Tale of the Brave, Kiki & Friends: The Adventure Begins, Kiki & Friends: Character's Legend of the Lost Treasure
Kiki Played Lucas Nickle in The Witch Bully
Kiki Played Basil in The Great Witch Detective
Kiki Played Miss Bianca in The Rescuers (SuperWhyMovies Style) and The Rescuers Down Under (SuperWhyMovies Style)
Kiki Played Princess Teegra in Hot & Cold (1983)
Kiki Played Ginger in Human Run
Kiki Played Anastasia/Anya in Kikistasia
Kiki Played Elsa the Snow Queen in Frozen (SuperWhyMovies)
Kiki Played Lady Amalthea in The Last Sky Blue Pegasus
Kiki Played Moses in The Witch of Egypt
Kiki Played Quasimodo in The Witch Girl of Notre Dame
Kiki Played Alana in The Little Mer-Camille
She played Dory in Finding Pup
She will play Sawyer in an upcoming Cats Don't Dance parody
She will play Kayley in an upcoming Quest for Camelot parody
She will play Lady Marina in an upcoming Sinbad: Legend of the Seven Seas parody
She will play Tulio in an upcoming The Road to El Dorado parody
She will play Coraline Jones in an upcoming Coraline parody
Portrayals:
Gallery:
Community content is available under
CC-BY-SA
unless otherwise noted.