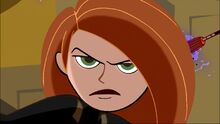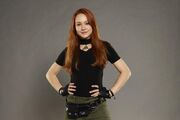 Kimberly Ann "Kim" Possible is the titular character and protagonist of Disney's 2002-07 animated television series Kim Possible. She debuted in the pilot opening episode in June 2001, then the actual series in June 2002, and starred in all the episodes of Season 1-4. Kim is a high school student and an undercover secret agent. She is unusual in this field in that she has no secret identity. For the most part, her classmates are aware of her work, but do not comment on it unless it affects them directly. At school, she is the head of her cheerleading squad at school, and a straight-A student. She is voiced by Christy Carlson Romano of Even Stevens fame.
Voice Actors:
Christy Carlson Romano - English
Arisa Ogasawara - Japanese
Leyla Rangel - Spanish
Anna Carlsson - German
Noemie Orphelin - French
Yeong Seon Eun - Korean
Anna Gajewska - Polish
Sandra de Castro - Portuguese
Adi Kozlovsky - Hebrew
Kim Possible played Jasmine in Ronladdin
Kim Possible played Wimzie in Kim's House
Kim Possible played Amy Rose in Ron X
Kim Possible played Serena/Sailor Moon in Sailor Kim
Kim Possible played Lita/Sailor Jupiter in Sailor Candace
Kim Possible played Kluke in Blue Dragon (400Movies Style)
Portrayals:
Gallery:
Community content is available under
CC-BY-SA
unless otherwise noted.