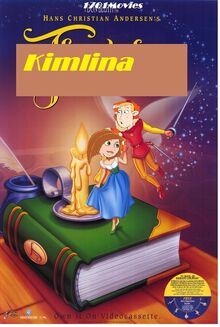 1701Movies' movie spoof of Don Bluth Thumbelina (1994). It will appear on YouTube in the near future.
Cast:
Thumbelina - Kim Possible
Prince Cornelius - Ron Stoppable (Kim Possible)
Jacquimo - Ash Ketchum (Pokemon)
Mother - Mina/Sailor Venus (Sailor Moon)
Hero - Scooby Doo
Baby Bug - Dale
Gnatty - Tammy
L'il Bee - Chip
Mrs. Toad - Queen Beryl (Sailor Moon)
Gringo - Mandark
Grundel - Professor Nimnul (Chip 'n Dale Rescue Rangers)
Berkeley Beetle - Normie
Ms. Fieldmouse - Queen (Pocahontas)
Mr. Mole - King James
Bumblebee - Himself
Queen Tabitha - Dexter's Mom (Dexter's Laboratory)
King Colbert - Dexter's Dad (Dexter's Laboratory)
Mrs. Rabbit - Fairy godmother
Mr. Fox - Sultan
Mr. Bear - Po the panda
Reverend Rat - Himself
Scenes:
Trivia:
Sailor Moon S, Scooby Doo in Arabian Nights, and Thumbelina were released in 1994.
In Japanese, both Ash Ketchum and Mrs. Toad were voiced by Rica Matsumoto.
This is first movie-spoof to use the Kim Possible theme at the beginning.
Gallery: