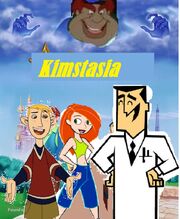 4000Movies' movie-spoof of Anastasia (1997). It will appear on YouTube in the near future.
Cast:
Anastasia - Kim Possible
Dimitri - Ron Stoppable (Kim Possible)
Vlad Vladimir - Professor Utonium (The Powerpuff Girls)
Pooka - Scooby Doo
Rasputin - Aldrin Klordane (Chip 'n Dale Rescue Rangers)
Bartok - Alvin Seville (Alvin and the Chipmunks)
Sophie - Miss Keane (The Powerpuff Girls)
Dowager Empress Marie - Miss Miller (Alvin and the Chipmunks)
Anastasia's Parents - James and Ann Possible (Kim Possible)
Phlegmenkoff - Queen Beryl (Sailor Moon)
Trivia:
Gallery:
Community content is available under
CC-BY-SA
unless otherwise noted.