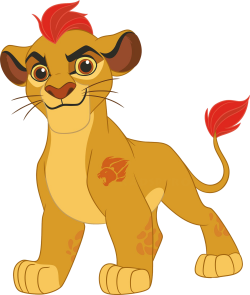 Kion is a lion cub from The Lion Guard. He is Rani's mate and king of the Tree of Life.
Kion played Junior Asparagus in FunnyTales and FunnyTales in the Wild , alongside Kodiak (Phase Awesomeness) 
He is a young asparagus.
Kion played Prince Alexander in Threefold: The Heroes Who Don't Do Anything (Phase Awesomeness)
He is an teenage leek
Kion played Sean Anderson in The Journey of a Wild-Lifetime
He is a 13-year-old teenager, the son of Max Anderson, and the nephew of Trevor Anderson. He formally has a crush of Hannah.
Kion played Mel the Minion in Awesome Me 3: Matthew's Destiny, alongside Jenna.
He is a rebel leader Minion.
He is a fawn
He is a fish
He is a kangaroo joey
Kion played The Beast in the Beauty and the Lion Trilogy
He is a Beast.
He is an animated prince
He is a Prince
He is an ogre
He is a cat
He is a train
Kion played Prince Charming in Fulirella
He is a prince
He is a big bad wolf.
He is a young viking
He is a young boy
He is a Genie
He is a lion
He is an orange Tyrannosaurus rex
He is a toaster
He is a dragon
He is a Pirate Fox Animatronic
He is a Nutcracker
Gallery
Community content is available under
CC-BY-SA
unless otherwise noted.