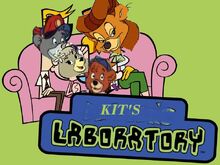 TheBluesRockz's TV spoof of Dexter's Laboratory (1996-2003). It will appear on YouTube in the near future to celebrate the 20th anniversary.
Cast:
Dexter - Kit Cloudkicker (TaleSpin)
Dee Dee - Cindy Bear
Mandark - Prince John (Robin Hood)
Dexter's Dad - Baloo (The Jungle Book)
Dexter's Mom - Rebecca Cunningham (TaleSpin)
Major Glory - Basil of Baker Street (The Great Mouse Detective)
Valhallen - Bernard (The Rescuers)
The Infragible Krunk - Thomas O'Malley (The Aristocats)
Monkey - Chip (Chip 'n' Dale Rescue Rangers)
Agent Honeydew - Kiara (The Lion King 2)
Commander - Tigger (Winnie the Pooh)
Lee Lee - Gadget Hackwrench (Chip N Dale Rescue Rangers)
Mee Mee - Nellie the Elephant
Quackor - Negaduck (Darkwing Duck)
Monster Dee Dee - Herself
Dinosaurs Dexter - Himself
Action Hank - Jeremy Johnson (Phineas and Ferb)
Pony Puff Princess - Pinkie Pie (My Little Pony: Friendship is Magic)
Math Magician - Ratigan (The Great Mouse Detective)
Seasons:
Kit's Laboratory (Season 2)
Kit's Laboratory (Season 3)
Kit's Laboratory (Season 4)
Segments:
Pilot:
Movie:
Short Film:
Trivia:
This series will be in loving memory of Christine Cavanaugh (August 16, 1963 - December 22, 2014).
This is the four TV spoof of TheBluesRockz.
Gallery: