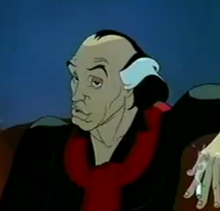 Klaus Vorstein is the secondary antagonist in "The Chipmunk Adventure", who also serves as Claudia's partner-in-crime.
Voice Actors:
He played Quartermaine In Dave and Cookie Chomper III and the Curse of the Were-Cat
He played Dexter's Enemy In Darien's Lab
He played Genie Jafar In Alvinladdin
He played Elmer Fudd In Alvin aka Bugs Bunny
He played Rancid Rabbit In Basil alvin aka dog
He played Mozenrath In Aladdin (4000Movies Styl) tv series
He played Makunga In Madgascar 2:Escape to (Chris1703 Style)
He played Lord Dargis In Alvin: A Tail of Two Chipmunks
He played Bowser In Super Alvin Bros Series
He played Grand Zirconia In Sailor Olivia
He played Barty Crounch Jr. In Dale Potter
He is a Evil Prince
He is Rose's Ex-Boyfriend
he is mamber of night kids
Portrayals:
Gallery:
Community content is available under
CC-BY-SA
unless otherwise noted.