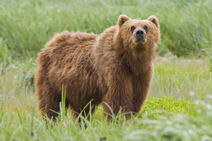 The Kodiak bear (Ursus arctos middendorffi), also known as the Kodiak brown bear, inhabits the islands of the Kodiak Archipelago in southwest Alaska. Its Alutiiq name is taquka-aq. It is the largest recognized subspecies of brown bear, and one of the two largest bears alive today, the other being the polar bear. Physiologically, the Kodiak bear is very similar to the other brown bear subspecies, such as the mainland grizzly bear (Ursus arctos horribilis) and the now-extinct California grizzly bear (U. a. californicus), with the main difference being in size. While there is generally much variation in size between brown bears in different areas, most usually weigh between 115 and 360 kg (254 and 794 lb). The Kodiak bear, on the other hand, commonly reaches sizes of 300 to 600 kg (660 to 1,320 lb), and has even been known to exceed weights of 680 kg (1,500 lb) on occasion. Despite this large variation in size, the diet and lifestyle of the Kodiak bear does not differ greatly from that of other brown bears.
Roles
Gallery
See Also
Community content is available under
CC-BY-SA
unless otherwise noted.