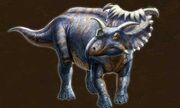 Kosmoceratops is a genus of herbivorous chasmosaurine ceratopsian dinosaur, which lived during the Late Cretaceous period. Kosmoceratops is distinguished by an ornate skull, the most ornate of any known dinosaur. The horns above the eyes are long, thin, and pointed. They project laterally from the skull and curve downward. The orientation of these horns differs from most other ceratopsians, in which the horns are oriented either forward, or backward. There is a forehead-like hump on the skull roof in front of the eye sockets. The nasal horncore, the bony projection from which the nose horn grew, is flattened and blade-like. The frill of Kosmoceratops is the shortest relative to its width of any ceratopsian; it is about twice as wide as it is long.
Gallery
Also See
Community content is available under
CC-BY-SA
unless otherwise noted.