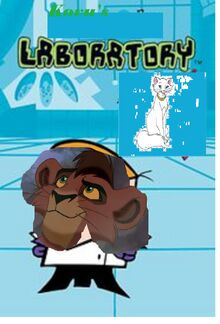 Chris1701's TV spoof of Dexter's Laboratory (1996-2003). It will appear on YouTube in the near future to celebrate the 20th anniversary.
Cast:
Dexter - Young Kovu (The Lion King 2: Simba's Pride)
Dee Dee - Duchess (The Aristocats)
Mandark - Cat R. Waul (An American Tail 2: Fievel Goes West)
Dexter's Dad - Xiro (Noah's Ark)
Dexter's Mom - Kairel (Noah's Ark)
Major Glory - Tom Sawyer (Tom Sawyer)
Valhallen - Jaune Tom (Gay Purr-ee)
Krunk - Tom (Tom and Jerry)
Monkey - Alvin Seville (Alvin and the Chipmunks)
Agent Honeydew - Gadget Hackwrench (Chip 'n Dale Rescue Rangers)
Commander - Monterey Jack (Chip 'n Dale Rescue Rangers)
Seasons:
Segments:
Trivia:
This series will be dedicated to Christine Cavanaugh (1963-2014).
This Chris1701 First TV Show Next ???
Gallery:
Community content is available under
CC-BY-SA
unless otherwise noted.