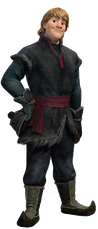 Kristoff is a character from Frozen.
He is a Jedi
Kristoff plays Miguel in The Road To El Dorado (JimmyAndFriends Style)
He Is a Mighty Powerful Gods
Kristoff plays Lightning McQueen in Animateds (Cars)
He is a car
He is Susan Murphy's ex-fiancee'
He is Robin Hood's sidekick
He is a Jedi master
He is a dwarf
He is a Smuggler
He is a fox
He is a wolf
He is aprincee
He is a lion.
He is a lion.
He is a mute and beardless dwarf.
He is Alan's father.
He is a peasant.
Kristoff plays Marlin in Finding Zeke
He is a clownfish.
He is a dwarf.
Portrayals
Gallery
Main article: Kristoff/Gallery
Community content is available under
CC-BY-SA
unless otherwise noted.