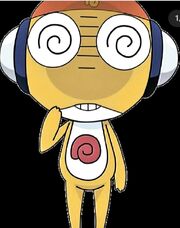 Kululu is a major character of the anime Sgt. Frog. Although he's never officially shown without his glasses, there are several fanmade attempts made to resolve this issue, like Dororo's face without his mask Fanon for example. Both of these fanart are made by Aoihitodayo, a Japanese Instagram user.
Gallery
Community content is available under
CC-BY-SA
unless otherwise noted.