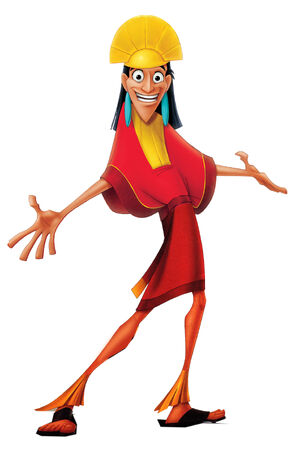 Kuzco (also known as Emperor Kuzco) is the protagonist of Disney's 2000 animated feature film, The Emperor's New Groove. He is the emperor of the Kuzconian Empire in Peru, known for his arrogant and saucy personality. When his ruthless behavior gets him transformed into a talking llama, Kuzco slowly comes to realize the error of his ways.
He played Jack Sparrow in Pirates Of The Caribbean (Prince Balto Style)
He is a pirate
Kuzco played Sokka in Avatar: The Last Airbender (PrinceBalto Human Style)
He is a funny wolf warrior
He is a 23-year-old boy
He is a mail delivery guy
He is Sharpay's twin brother
He is Ash's rival
He is a mirror
He is a badger
He is a dwarf
He is a hatter
He is a rooster
He is The Chef
Kuzco Played Sam I Am In Green Eggs and Ham (Princess Creation345 Style)
Kuzco Played Ernie In Animated Tale (Shark Tale) (TheTureDisneyKing Style)
He Is A Jellyfish
Kuzco Llama played Willy Wonka in Thumper and the Chocolate Factory
He is a Chocolate Factory Owner
Kuzco Llama played George Sanderson in Animateds Inc (Princcess Rapunzel Style)
Kuzco played Sid in Animated Age (Series) (Princess Rapunzel Style)
Kuzco played Oven Mitt in Arbys (Dragon Rockz Style)
He is a megalonyx
Portrayals
Human form
Llama form
Voice Actors:
Gallery:
Community content is available under
CC-BY-SA
unless otherwise noted.