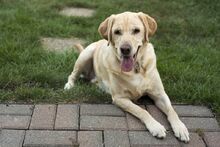 The Labrador Retriever, also called Labrador, is a is a breed of retriever-gun dog from the United Kingdom that was developed from imported Canadian fishing dogs. Labradors are a medium-large breed, with dogs typically weighing 29–36 kg (65–80 lb) and bitches 25–32 kg (55–70 lb).[5] The majority of the characteristics of this breed, with the exception of colour, are the result of breeding to produce a working retriever. The Labrador is one of the most popular dog breeds in a number of countries in the world, particularly in the Western world. A popular disability assistance breed in many countries, Labradors are frequently trained to aid those with blindness or autism, act as a therapy dog, or perform screening and detection work for law enforcement and other official agencies. The breed is best known for their obedience, loyalty, and playful composure. Additionally, they are prized as sporting and hunting dogs. Ancestors include a breed used in Newfoundland as fishing dogs, that would help in bringing in the fishing nets and recapture escaped fish. Labrador coloration is controlled by multiple genes. It is possible for recessive genes to re-emerge in later generations. Also, there can sometimes be unexpected pigmentation effects to different parts of the body. Pigmentation effects appear in regard to yellow Labradors, and sometimes chocolate, and hence the majority of this section covers pigmentation within the yellow Labrador. The most common places where pigmentation is visible are the nose, lips, gums, feet, tail, and the rims of the eyes, which may be black, brown, light yellow-brown ("liver", caused by having two genes for chocolate), or several other colors. A Labrador can carry genes for a different color; for example, a black Labrador can carry recessive chocolate and yellow genes, and a yellow Labrador can carry recessive genes for the other two colors. DNA testing can reveal some aspects of these. Less common pigmentations other than pink are a fault, rather than a disqualification, and hence such dogs are still permitted to be shown.
Roles
Gallery
Community content is available under
CC-BY-SA
unless otherwise noted.