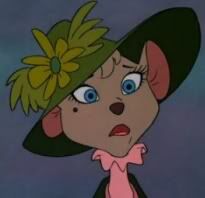 Lady Mouse (also "A Client from Hampstead") is a character in "The Great Mouse Detective".
Voices:
Shani Wallis - English

Yuri Tabata

- Japanese
Rosalba Caramoni - Italian
Jacqueline Porel - French
Diana Santos - Spanish
Lady Mouse played Isabelle (Daisy Duck) in Taran's Christmas Carol
She is a duck.
Lady Mouse played The Elephant with Her Son and Daughter in Bernard: The Movie
She is a mother elephant.
She is a woman.
Lady Mouse played Melinda Finster in RugMice in Paris
She is Chuckie's late mother.
Portrayals:
Trivia:
She would later be Olivia's stepmother.
Gallery: