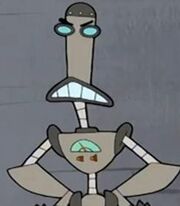 The Larry 3000 is a time-traveling robot who serves alongside officer Buck Tuddrussel and Otto Osworth in the Time Squad. 
Larry was originally designed as a diplomat. However, he was put into Time Squad's service when the world's nations all joined together in the year one million, rendering his original purpose obsolete. He is the only team member capable of operating the time-traveling technology and most of the technology aboard the satellite. 
Also Known For Stephen Squirrelsky
He is one of the main characters and is also Andrew and Stephen's friends.
Appearance
Larry is a greyish-brown, medium-tall humanoid robot. His mouth does not open or close, but rather flashes with a blue glow as he speaks.
Personality
Larry is a sophisticated, well-mannered, non-violent diplomat. This is in stark contrast to his partner, Buck Tuddrussel. Although Larry is a robot, he is very sensitive and prone to his emotions. He is dramatic and sarcastic, but also shows happiness and adoration often. Although he appears to lack bravery and strength, he can stand up for himself and others when the need arises. 
Larry is very openly effeminate, often engaging in feminine activities, clothing and the like. His constant bickering with Tuddrussel often resembles that of a husband and wife model, with Larry representing the latter. At rare times however, Larry's masculine side will break out in full force, such as when he discovered an interest in weaponry. 
Towards the beginning of the series, Larry showed annoyance towards Otto. However, as the series progressed, Larry quickly grew to love Otto and now serves as a maternal figure for him. This includes homeschooling, cooking, and caring for Otto when he becomes sick. He also states that Otto is the only ones in the satellite who is not a jerk due to Otto sensitive and maturity over Buck.
Skills
Larry takes pride in being cultured. He is skilled in painting, sewing, figure skating, cello playing, dancing, cooking, and literature. However, his talents often sometime being underhanded by Buck's brutish and unsophisticated attitude especially in painting since he thinks Larry's art looks like vomit or occasionally in cooking in which Buck cannot stand Larry's Haute style of cooking. He can speak every known language and understands diplomatic skills like manners and class. He also (to his disdain) is in charge of cleaning the satellite and all of the messes his unit creates for him.
As Larry is a robot, he has quite a few useful tools. He uses the time travel-capable computer in his arm most often, but he also has detachable limbs, a built-in radio, a printer, a camera, a flashlight, and microscopic vision. Although he is robotic he is capable of many human traits, including the ability to smell, dream, and feel emotion. He is also able to drink liquids like oil.
He lacks of advanced technologies compared to XJ5 or Lance 9 Trillion, which XJ5 often teases him about it every time they meet.
Other media
Larry has appeared in several Cartoon Network commercials and promos from the network's Powerhouse and CN City eras.
The Larry 3000's severed head appeared in Cartoon Network Universe: FusionFall. It is used as a part needed to complete a time machine during the Future portion of the game. The rest of his body went missing after he was destroyed in a battle at Tech Square and thrown away at Goat's Junk Yard.
Larry appears alongside Tuddrussel in the poster that Cartoon Network distributed at the 2012 San Diego Comic Con to commemorate the network's 20th anniversary.[1]
Trivia
Otto's appearance is based on that of Sherman from "Mr. Peabody and Sherman".[citation needed]
It is never explained why Otto is an orphan. Series writer Carlos Ramos stated that the writers most likely didn't put much thought into it, but would have elaborated more on his past had the series been renewed for more seasons.[2]
Otto's short size remains with him his whole life. He is at almost the same height when he is an elderly man, as seen in Old Timer's Squad.
Otto was seven years old when he was adopted by the Time Squad. He turns eight in Love At First Flight.
Otto initially shares a room with Tuddrussel, as seen in Dishonest Abe. However, he eventually gets a room of his own, as seen in Floundering Fathers.
Despite being the most competent of the group, he sometimes causes historical inaccuracies to happen when fixing the ones that have already started. For example, he solves the problem of Josephine Bonaparte preventing her husband's conquests across Europe by convincing her that her place in life is fighting along side her husband, only to realize a second too late that the battle he convinced Josephine to fight in is the Battle of Waterloo. It's implied that the French still lost the battle of Waterloo, but it isn't made clear and Otto is concerned that he might have tipped the odds in their favor. In a much later episode, Otto's passionate drive to save the mission and to get back at Louis Pasteur's obnoxiously rude behavior towards him leads him to give the idea for Marie Curie to invent the popsicle, which wasn't supposed to be invented for about forty years by Frank Epperson.
Although Otto is one of the main characters of Time Squad, he doesn't appear alongside Buck and Larry on Cartoon Network's 20th Anniversary commemorative poster.
His, Larry 3000, and Buck's appearances in the Stephen Squirrelsky and Friends' movie spoof travels are The Great Hedgehog Detective, The Sword in the Stone, Vanellope Von Schweetz, The Train and the Boat, Toon Age, Cub and Company, Hoodwinked!, Beauty and the Grizzly Bear, The Rescuers, Nikki's Adventures of Sing Along Songs Episode 4, The Rescuers Down Under, The Secret of NIMH, Nikki's Adventures of Sing Along Songs Episode 6, The Little Mer-Lioness 2: Return to the Sea, Skunkules, Home on the Range, Kermit's Winter Wonderland, The Little Jungle Boy, Kermiladdin 2: The Return of McLeach, AiAi the Monkey and A Day for George, The Reindeer and the Deer, Animal Story 2, AiAi the Monkey's Grand Adventure: The Search for Tails, A Cartoon Character's Life, Nikki's Adventures of Sing Along Songs Episode 7, Here Comes Winnie the Pooh, Animals, Inc, Simba 2, Miss Bianca and the Bernard 2: Fievel's Adventure, FernGully: The Last Rainforest, A Pooh in Central Park, Bubblesrella 2: Dreams Come True, The Brave Little Piglet, Kung Fu Owen, Nikki's Adventures of Sing Along Songs Episode 8, The Thomas O'Malley Movie, Kermit Returns, Fievel the Red Nosed Mouse and The Island of Misfits, Nikki's Adventures of Sing Along Songs Episode 9, Cloudy with a Chance of Meatballs, Finding Alvin, Animated Tale, The Forest Book 2, and Nikki's Adventures of Sing Along Songs Episode 10 and will even be in more movie spoof travels.
Gallery
References
Community content is available under
CC-BY-SA
unless otherwise noted.