Laura
is one of friends in Barney and Friends and was a character that appeared from Season 9-11. She was portrayed by 
Julia Nicholson
.
About Laura
Her favorite healthy snack are fruits.
Appearances
Season 9
Season 10
Season 11
Home Videos
Barney's Colorful World! (Home Video)
The evolution of Laura (2004-present)
Design 1 (2004-2005)
The original design of Laura has played by Julia Nicholson. She is a 3rd grader and she wears the same clothes in Season 9 (even she also had the same hairstyle in My Friends, The Doctor and the Dentist and episodes 21-41 from the ninth season). ==Design 2 (2006)== Laura has her 2nd design for Season 10. She is also turned 10 years old.
Design 3 (2007-present)
Laura is now currently 11 years old and a 5th grader since Season 11 in North America and United Kingdom. She also wears the same clothes and have the same hairstyle in The Shrinking Blankey.
She played Lisa Leeper in Full World
She played Leah in Signing Time
Video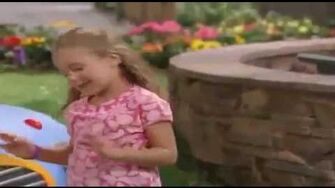 Gallery
Community content is available under
CC-BY-SA
unless otherwise noted.