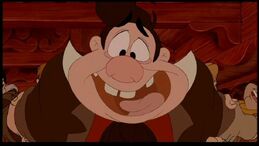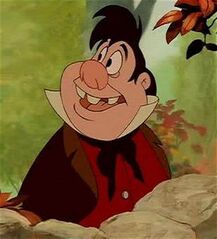 Lefou is the secondary antagonist from Beauty and the Beast.
Lefou played Lampwick in RoonicchioLefou played Joe The Janitor in Cody (Dumbo)
Portrayals
Gallery:
Trivia
He and Gaston made their appearances in Stephen Squirrelsky and the Sea Dragon of the Russian Palace, along with Gaston's baddies and Mandark, will hopefully be joining The Meanies 80's, Manfred Macavity, Springbaky Plain, Chimpy Chump, Boar Twenty-Five, Teresa Pussy-Poo, The Greasers, Lionel Diamond, The Rowdy Ruff Boys, Red Guy, The Smoking Crew, Trevor Meowy Sr., Trevor Meowy Jr., The Rowdy Ruff Boys, Red Guy, Spydra, Boris, Mulch, Hummus, and The Greaser Dogs and work with other villains for more movie spoof travels.
His appearances in the Stephen Squirrelsky and Friends' Movie Spoof Travels are The Brave Little Toaster where he, The Cheetah Bros., The Nasty Goats, Gaston, Gaston's Buddies, Victor Quartermaine, Piella Bakewell, and Philip kick Stephen and his friends into a garbage bin, and will even be in more spoof travels.
Community content is available under
CC-BY-SA
unless otherwise noted.