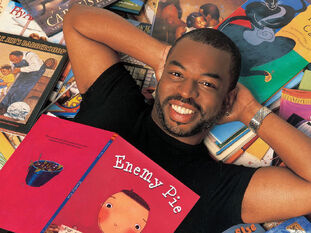 "Well, You don't have to take my word for it."
―LeVar Burton's catchphrase on Reading Rainbow.
Levardis Robert Martyn Burton Jr. (born February 16, 1957) is an African American actor, television host, director, and author.
He is known for his roles as Kunta Kinte in the ABC miniseries Roots (1977), Lt. Commander Geordi La Forge in Star Trek: The Next Generation (1987–1994), and famously known as host of the PBS Kids educational television series Reading Rainbow for more than 23 years..
Gallery