Learn and Play With Dora and Blue
 is a Dora the Explorer and Blue's Clues VHS tape featuring the episodes from "Dora's Backpack Adventure" and "ABC's and 123's."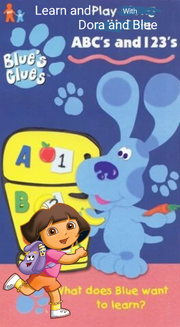 Episodes Featured
Backpack! (Season 1, Episode 16)
Big River (Season 1, Episode 9)
Blue's ABCs (Season 2, Episode 7)
Math! (Season 2, Episode 8)
Contents
Coming to Videocassette
Following Preview Screen
Jimmy Neutron: Boy Genius Trailer
Charlotte's Web 1 & 2: Wilbur's Great Adventure VHS & DVD Teaser Trailer
Now Available on Videocassette
Nick Jr. Home Videos Trailer
SpongeBob SquarePants VHS & DVD Trailer
Peanuts Home Videos Trailer
Paramount Feature Presentation/FBI Warning
Paramount Home Video
Nick Jr. ID Bumper - Frogs
Face Travels in Many Different Ways (Short Version)
Backpack!
Face the Jigsaw Puzzle (Short Version)
Big River
Face Sings the Alphabet Song (Blue's Clues Version)
Blue's ABCs
Face Counts Potatoes (Blue's Clues Version)
Math!
Face Loves Bubbles
Dora the Explorer Credits (Backpack! & Big River)
Blue's Clues Credits (Blue's ABCs & Math!)
Nick Jr. Ducks Logo
Paramount Home Video
Home Video Gallery
Episode Gallery
Community content is available under
CC-BY-SA
unless otherwise noted.