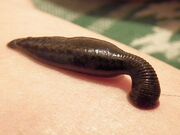 Leeches are segmented parasitic or predatory worm-like animals that belong to the phylum Annelida and comprise the subclass Hirudinea. They are closely related to the oligochaetes, which include the earthworms, and like them have soft, muscular, segmented bodies that can lengthen and contract.
Gallery
Is a Crocodile a Reptile?
Books
Community content is available under
CC-BY-SA
unless otherwise noted.