this scene when Lenny roars from Shark Tale (2004).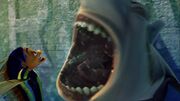 Characters Who Get Scared
Lenny Shark Tale
Wyldstyle Lucy The Lego Movie
Lord Nooth Hognob and Stefano Early Man
Crusher (Blaze & the Monster Machines: Toucan Do It)
Lilo Pelekai (Lilo & Stitch)
Migo (SmallFoot)
Mulan
Nick Dean (Jimmy Neutron: Boy Genius)
Rabbids (Bunnies Screamathon)
Catboy Owlette And Gekko PJ Masks lionel Saurus
Amaya (PJ Masks: Terrible Pterodactyl Trouble)
Archibald Asparagus (VeggieTales: LarryBoy and the Fib from Outer Space)
Tulio And Miguel (The Road El To Dorado)
Sargeant Calhoun Wreck-It Ralph
Jailbreak and Hi-5 (The Emoji Movie)
Fossas (Madagascar)
The Lorax
The Joker (The Lego Batman Movie)
Susan Murphy (Monster VS. Aliens)
Rarity (My Little Pony Equestria Girls: Legend of Everfree)
Daffy Duck and Elmer Fudd (Box Office Bunny)
Star Butterfly & Marco Diaz (Star vs. the Forces of Evil: The Match Makers)
Alex and Loco ( A Bug's Life)
Max Goof (An Extremely Goofy Movie)
Bonnie (Five Nights at Freddy's Tony Crynight Part 15: The Final Battle)
Ben Kelly Alexander Emily Anthony And Trover (Alexander And The Terrible Horrible No Good Very Bad Day)
Blu and Jewel (Rio)
Duke (The Secret Life of Pets)
The Boxtrolls & Eggs (Boxtrolls)
Gumball Watterson (The Amazing World of Gumball: The Date)
Aviva & Koki (Wild Kratts: Termites vs. Tongues)
The Zombie (Paranorman)
Violet Parr (The Incredibles)
Red Puckett Granny Puckett and Wolf W. Wolf (Hoodwinked!)
Donkey (Shrek)
Jonathan (Hotel Transylvania)
Wreck-It Ralph And Vanellope (Wreck-It Ralph)
Sid (Toy Story)
Biskit Twins (Littlest Pet Shop)
Hannah Phillips (Toy Story)
Penny Forrester (Bolt)
SpongeBob SquarePants and Patrick Star (The SpongeBob SquarePants Movie)
Wyldstyle/Lucy (The Lego Movie 2: The Second Part)
Dito and Feito Cocorico
Aslofto Cocorico
Merida (Brave)
Nigel & Larry (The Wild)
DJ Walters, Chowder, and Jenny (Monster House)
Runt of the Litter (Chicken Little)
Junior & Tulip (Storks)
Lapis Lazuli (Steven Universe: Alone at Sea)
Pinkie Pie (My Little Pony: Friendship is Magic)
Gladys Sharp (Over The Hedge)
Rudolph Sackville-Bagg (The Little Vampire 2018)
Sherman (Mr Peabody & Sherman)
Star Butterfly (Star vs. the Forces of Evil: Doop Doop)
True & Grizelda (True & the Rainbow Kingdom:Fee Fi Fo Frookie)
Jett (Super Wings: Sahara Sled)
Sugar Plum and Sunny (Strange Magic)
Woody (Toy Story 2)
Sour Kangaroo (Horton Hears a Who! (2008))
Bloom (Winx Club)
Mommo (The Ant Bully)
Darlin and Yankee Irving (Everyone's Hero)
Spider Man
The Superintendent (Mortadelo and Filemon: Mission Implausible)
Blossom & Bubbles (The Powerpuff Girls (2016))
Sulley & Mike (Monsters Inc.)
Riley Anderson (Inside Out)
Kat and Casper (Casper)
Pedro and Nico (Rio)
Poppy (Trolls)
Coraline
5 (9)
Charlotte LaBouff & Laurence (The Princess and the Frog)
Pilot (Smallfoot)
King Pig (Angry Birds Toons: Stalker)
Dipper Pines (Gravity Falls: Carpet Diem)
Mittens (Bolt)
Peppa Pig (Peppa Pig: Mr. Skinny Legs)
Ronno (Bambi II)
Lucius Best (Incredibles 2)
Poppy and Branch (Trolls)
Wallace (The Wrong Trousers)
Hannah (Scary Godmother: Halloween Spooktacular)
Wolfie Ra and Mantha Casper Scare School Accidental Hero Rich Kid Ra
Phillis (The Ugly Duckling And Me!)
Liam (Gnome Alone)
Norm (Norm of The North)
Pumbaa (The Lion King)
Rayman, Globox & Other Characters (Rayman Origins)
Gil (Bubble Guppies)
Squeeks (The Fox and the Hound)
Jimmy Z (Wild Kratts: Crocogator Contest)
Zeta (Shimmer & Shine)
Astrid (How to Train your Dragon)
Lord Boxman (OK K.O.: Let's Be Heroes!)
Ham (Space Chimps)
Bridget (Vampirina)
Kiko (Winx Club)
Kari (Jack-Jack Attack)
Thomas & Pigling Bland (Peter Rabbit (2018))
Rumble (Pixie Hollow Games)
Mavis (Hotel Transylvania 2)
Hubie and Rocko (The Pebble and The Penguin)
Lazlo (Camp Lazlo)
Beanstalk Jack (Goldie & Bear)
Marty the Zebra (Madagascar)
Ben (Talking Tom and Friends)
Bruce Wayne/Batman (The LEGO Batman Movie)
Chi, Chao and Peng (Duck! Duck! Goose!)
Iridessa Fawn and Silvermist (Tinker Bell)
Black Wolf (The Flight Before Christmas)
Sci-Twi, Sunset Shimmer and Timber Spruce (My Little Pony Equestria Girls: Legends of The Everfree)
Mabel Pines (Gravity Falls: The Time Pig Traveler)
Mime Boy (The Peanuts Movie)
Spongebob Squarepants (The SpongeBob Movie Out The Water)
Shrek (Thriller Night)
Captain Smek (Home 2015)
Minions (Despicable Me 3)
Hector (Coco)
Sadness, Fear, Disgust & Anger (Inside Out)
Wubbzy (Wow Wow Wubbzy)
Evelyn Deavor (Incredibles 2)
Gene (The Emoji Movie)
Tari SMG4 Blooopers Super Mario
Kirby and Chicken Little (Chicken Little)
Pat (Pat & Stan: Pack Ice)
Squidward Tentacles (SpongeBob SquarePants: Graveyard Night)
Granny (Huevos: Little Rooster's Egg-Celent Adventure)
Linguini (Ratatouille)
Red and Yellow Larva (Larva: Distress)
Taffyta Muttonfudge (Ralph Breaks the Internet)
Sid & Manny (Ice Age)
Alvin (Paranorman)
Mr. Krabs (SpongeBob SquarePants: Born Again Krabs)
Huey, Dewey, Louie, and Donald Duck (Mickey's Once Upon a Christmas)
Flounder (The Little Mermaid)
Flint Lockwood, Sam Sparks and Brent (Cloudy With A Chance Of Meatballs)
George & Harold (Captain Underpants: The First Epic Movie)
Pearl (Steven Universe: Say Uncle)
Mrs. Beakley (DuckTales the Movie: Treasure of the Lost Lamp)
Eduardo (Foster's Home for Imaginary Friends)
Lucas Nickle (The Ant Bully)
Richard Tyler, Horror, Fantasy, and Adventure (The Pagemaster)
Reggie and Ronnie Ram Tech (The Emoji Movie)
Tinker Bell (Legend of The Neverbeast)
Arlo (The Good Dinosaur)
Sabrina Spellman (Sabrina the Animated Series)
Lightning McQueen (Cars)
Maudeline And Finis Everglot (Corpse Bride)
Boog (Open Season)
Shirley (Shaun the Sheep: Hiccups)
Twilight Sparkle (Human) (Equestria Girls)
Mrs. Puff (SpongeBob SquarePants: Doing Time)
Roger Rabbit (Who Framed Roger Rabbit)
Gru (Despicable Me 3)
Carl Wheezer (Jimmy Neutron: Boy Genius)
Felicie Milliner and Victor (Leap!)
Batty Koda (FernGully: The Last Rainforest)
The Chickens (Chicken Run)
Smiler (The Emoji Movie)
LeFou (Beauty & the Beast)
Tinky Winky, Dipsy, Lala and Po (Teletubbies)
Tommy, Dil, Chuckie, Phil, Lil and Kimi (Rugrats in Paris: The Movie)
Bradley (Khumba)
Monsters (Hotel Transylvania)
Monsters (Monsters, Inc.)
Snotty Boy (Barnyard)
Wander (Wander Over Yonder)
June (Little Einsteins: Dragon Kite)
Kipper & Tiger (Kipper: The Purple Park Monster)
Marinette (Miraculous Tales of Ladybug & Cat Noir: Timebreaker)
Nutty (Happy Tree Friends)
Eep (The Croods)
Chloe (Gnome Alone)
Mushu (Mulan II)
Goku (Goku vs. Everybody)
Paddington (Paddington 2)
Po (Kung Fu Panda)
Courage the Cowardly Dog (Muted Muriel)
Scrat (Ice Age 3: Dawn of the Dinosaurs)
Mimmy and Kitty (Hello Kitty and Friends)
Red, Chuck and Bomb (The Angry Birds Movie)
Transcript
Gallery
Videos:
Community content is available under
CC-BY-SA
unless otherwise noted.