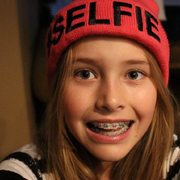 Lia use to be the tue spot on spa then she left to focus on her own channel Lia Tuesday angle! She also left because of to much homework! She also appears in Ella's videos!
About Lia
Lia was born on May 13, 2004. She has two siblings, a younger sister named Ella who is 11 and a younger brother named Eli. Lia is 14 and the eldest kid.Her parents are mother Sasha and father . Lia also has a dog named Dallas and a budgie named Bibbels. She joined seve perfect angels in 2013,spa was the only saks she was on,but on her audition video she auditioned for seven Twinkling Tweens!
Family
she lives with her mum and dad,her sister named Ella who is on seven super girls and a younger brother naked Eli! She also has a folded retriver called Dallas and a budgie called bibbels!
Community content is available under
CC-BY-SA
unless otherwise noted.