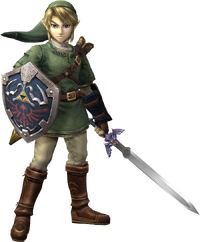 Link is a Hyrulian slave descended from a long line of similar looking boy toys with the same name. Link is the last of his line due to an injury, being unable to reproduce. Link is also the main protagonist in YouTube Poop World. His most respected quote is EXXXCUUUSSMMMMEEEEE Princess!. He has 2 forms which are called Cartoon Link and CD-I Link.
He plays Robin Hood in Link Hood
He robs from the rich to give to the poor
He plays himself in the Clash of the Links film series
He appears in his three forms, consisting of Cartoon Link, CD-I Link and Nintendo Link.
He is a puppet
He is a boy
He is a Prince
He is a street rat
He is Mrs. Leary's best friend and foster son
He plays SkyTrain Mark I #140
He is playable with Thayne Prouten -- Super Smash Bros Melee edition
He plays SkyTrain Mark I #148
He is hostage with Dash Parr from The Incredibles (2004) as Thayne Prouten
He plays Chris Griffin in King Guy
He plays Prince Adam in Beauty and the Panther and More!
He is a Potato
Both Wearing Green
Portrayals
Gallery
Community content is available under
CC-BY-SA
unless otherwise noted.