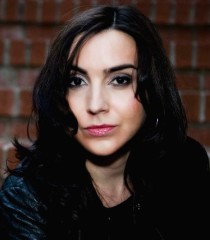 Lisa Ortiz (born December 11, 1974) is an American theatre and voice actress, best known for her roles in English anime adaptations. She is perhaps best known for the roles of the high-elf Deedlit in Record of Lodoss War, Lina Inverse in Slayers, and Tony Tony Chopper in the 4Kids dub of One Piece. Her extensive résumé also includes the role of Amy Rose in Sonic X, and Serenity Wheeler in Yu-Gi-Oh!. She has voiced Amy Rose in the Sonic the Hedgehog series of video games from Shadow the Hedgehog to 2010, as the successor to voice actress Jennifer Douillard, who voiced the character from Sonic Adventure to Sonic Advance 3. Living in New York City and frequently meeting people who speak other languages, Ortiz helps in creating the dialect voices for which she is well recognized. Ortiz holds a BFA in theatre from Hofstra University. She has appeared in titles for NYAV Post, 4Kids Entertainment, Central Park Media, Funimation Entertainment, Headline Studios, TAJ Productions, and DuArt Film and Video. At Katsucon 2002 in Baltimore, Maryland, Lisa admitted that her start in voice overs came from her brother stealing her car, which meant she was unable to attend a theater casting call for a show she'd been hoping to play a part in that day, however her agent suggested she attend a casting call near her home which was for Record of Lodoss War.
Voices:
Flannery, Liza, Marina (Orange Islands), Ash's Oshawott, Daisy - Pokemon
Lina Inverse - Slayers
Amy Rose - Sonic X
Leo & Luna - Yu-Gi-Oh! 5D's
Community content is available under
CC-BY-SA
unless otherwise noted.