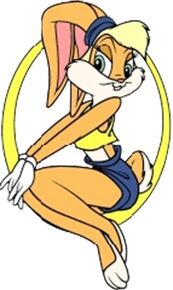 Lola Bunny is a Looney Tunes cartoon character portrayed as an anthropomorphic female rabbit who first appeared in the 1996 film Space Jam. In most incarnations, she is Bugs Bunny's girlfriend.
She is a sea squirrel
She is a Warthog
She is a Cowboy
She is a Mermaid
She is a lioness
She is a Lion
Lola Bunny played Turanga Leela in Futurama (PierrickCanalFamille Style)
She is an One-Eyed Human
She is a Pony
Lola also has a starring role as herself in "Lola Meets the Cat in the Hat" (2003).
She is a Pony
She will play Velma Dinkley in an upcoming Scooby-Doo parody
She will play Harley Quinn in an upcoming Batman parody
She will play Patrick Star in an upcoming SpongeBob SquarePants parody
Voice Actresses
Relationships and Acquaintances
Best Friends - Nala, Ariel, Vixey, Clarice, Unikitty, Zoe Trent, Minka Mark, Sunil Nevla, Pepper Clark, Russell Ferguson, Penny Ling, Sandy Cheeks, Bert Raccoon, Larry the Cucumber, Bob the Tomato, Kipper the Dog, various anthropomorphic animals
Sister in Law - Judy Hopps
Father -
Mother -
Cousins - Skippy, Buster Bunny, Babs Bunny ("No relation"), and
Son - Yang
Son in Law - E.B.
Daughter - Yin
Grandson - Warren
Granddaughters - Warren's 25 rabbit sisters
Husband - Bugs Bunny
Gallery
Community content is available under
CC-BY-SA
unless otherwise noted.