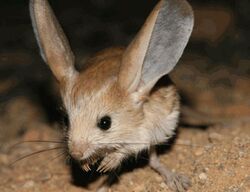 The long-eared jerboa (Euchoreutes naso) is a nocturnal mouse-like rodent with a long tail, long hind legs for jumping, and exceptionally large ears. It is distinct enough that authorities consider it to be the only member of both its genus, Euchoreutes, and subfamily, Euchoreutinae. Long-eared jerboas are found in the Palearctic ecozone. The specific palearctic ecozone areas they are found in are southernmost Mongolia to the Takla-Makan Desert, Mengxin, Aerijin Mountain, and Qing-Zang Plateau regions of north western China.
Roles
Gallery
Books
See Also
Community content is available under
CC-BY-SA
unless otherwise noted.